With an ever-increasing number of consumers looking to e-commerce to replace their in-person shopping experiences, many advertisers are searching for innovative new ways to reach the surge of online shoppers.
One such method is to advertise on VOD (video on demand) videos.
What Is Video on Demand (VOD)?
Video on demand means exactly what it sounds like: videos that are available at the viewer's convenience.
The term can include offerings from private companies like Netflix and Hulu, as well as those that aren't pay-to-pay, like YouTube.
There are two common types of VOD you've likely interacted with:
Subscription VOD: Also known as SVOD, access to these videos comes with a subscription rate. Again, think Netflix or Hulu. Essentially this is any streaming platform involving an annual, monthly, or some other subscription rate.Transactional VOD: While SVOD offers users unlimited library access for the subscription fee as mentioned above, TVOD charges the user by the amount of content watched. Think of the pay-per-view digital content on Amazon.
What Is Advertising Video on Demand (AVOD)?
Advertising-based video on demand differs from TVOD and SVOD in that it is a monetization model that allows brands or companies to inject video advertising into existing (or soon to be existing) video content.
The successful AVOD strategy grows brand awareness and attracts new audience members while simultaneously allowing the brand to grow passive income.
A big example of this is the ads that run on YouTube videos.
This video advertising strategy should be of particular interest to marketers, as it takes advantage of the vast audiences that are interacting daily with online video content.

AVOD Platforms and How to Use Them
While YouTube is the most popular VOD platform in North America, other platforms like Twitch, Tubi TV, Facebook Watch, and The Roku Channel definitely earn a large number of viewers.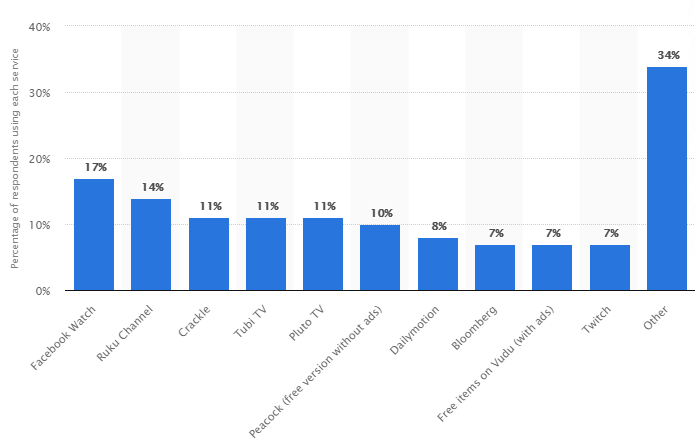 Choosing the right AVOD platform is as important as creating the content to share on that platform. Much like any other platform your business decides to advertise on, AVOD platforms have distinct audiences, making some of them more appropriate for certain audiences (and vice versa).
Regardless of which platform best aligns with your intended audience, you want to ensure the content you're creating is consumable and attractive rather than something your audience would rather skip given the option.
Once you've created that must-watch content, how do you decide which platform is the right choice for your next video campaign? Below, we'll go over five competitive VOD platforms that can help take your AVOD campaign to the next level.
Facebook Watch
Facebook believes there's a Facebook ad opportunity for every business, regardless of budget. For those businesses looking to cultivate an AVOD experience, Facebook Watch is the medium.
The social media giant's VOD service offers users a mix of free content and makes it available on desktop, smartphone, and other video devices.
It's no secret that Facebook's users love video content. In fact, the average engagement rate on Facebook video is 6.09 percent, which is considerably higher than any other engagement rate. Not only that, but users also interact with video content five times longer than photos or other static posts.
In short, to market successfully on Facebook, you need to use video. With numbers like those, it's time to start planning your Facebook AVOD campaign today.
On Facebook Watch, marketers have two options for creating ads:
In-Stream Video Ads: These ads operate as commercials that play 60 seconds into other video content. The first 15 seconds of your ad play, then viewers choose whether they want to continue watching your ad or return to the video content.Facebook Video Feed Ads: These scrollable ads display among videos on Facebook Video Feed.
Regardless of which route you choose, here are some simple tips to make your Facebook AVOD stand out from the crowd:
Make it soundless: Facebook shared that 80 percent of users react negatively to videos that played with auto-sound. Why should you care? This likely means many people have turned off their automatic sound functions and are watching videos without any auditory components. If your message relies heavily on heard words, you're out of luck.Optimize for mobile: When you imagine your ideal viewer interacting with your ad, imagine them doing so on their mobile device. With viewers 1.5 times more likely to watch a video on their phone than on a computer, design around the needs of your mobile users.Use emotion: Emotion drives action. When crafting your ad for Facebook Watch, be sure to incorporate emotions your audience will react to, driving them to take action or remember your business for the feelings now associated with it.
The Roku Channel
The Roku Channel supports free streaming options for viewers, including movies, TV shows, and 24/7 news reporting.
Haven't considered advertising on The Roku Channel?
Your competitors have. In 2020, Roku brought in $1.27 billion in revenue, with much of that coming from ad sales.
With their active users watching 17 billion hours annually, those ads are definitely reaching audiences.
Much like Facebook Watch, when you choose to advertise on The Roku Channel VOD platform, your ads are interspersed with the content that exists for free on the channel. Besides offering 15- and 30-second spots, Roku advertisers can also purchase interactive, full-screen videos and interlays to create a unique viewer experience.
While how you advertise on Roku depends on what you're advertising on the VOD platform, here are three tips to help your next Roku advertising campaign succeed:
Make them engaging: Viewers have nearly endless supplies of content to choose from. If your ad interrupts a show they only are half engaged with, what will stop them from navigating to other content? When you build engaging ads, you increase the chances that viewers will watch your ad to completion rather than moving on to something better.Make them relevant: While your ad is inarguably an intrusion into the viewing experience, it doesn't have to feel that way. When you build ads that complement the content, you increase the likelihood that viewers will pay attention.Include a call- to- action (CTA): Marketing materials need CTAs, and VOD platform videos are no different. Be sure to include one to let your viewers know what to do after seeing your ad. Regardless of which action you want them to take, be sure you're giving them a clear imperative.
YouTube
YouTube is the world's second-most visited website, drawing over 2 billion visitors a month.
If you're not using this VOD platform as part of your marketing strategy, now is the time to start. For the video marketer, YouTube offers a number of options:
Skippable In-Stream Video Ads: Viewers can choose to skip these ads after the first five seconds. You'll only be charged if a viewer continues to watch past that time span or if a viewer interacts with your ad by clicking on it.Non-Skippable In-Stream Video Ads: As the name implies, viewers can't skip these ads. Advertisers pay for these ads per impression.
Deciding which YouTube video ad is right for your campaign depends on your budget and your goal.
Here are some tips for making the most out of your YouTube video advertising campaign:
Length: Your video lengths should fall between 15 and 60 seconds. Although success is contingent on ad strength, research suggests 30 seconds is the sweet spot for YouTube ads.Mobile: Much like Facebook Watch, the majority of YouTube viewers are watching on their mobile devices. To provide them with the best experience, be sure to design your ads for mobile viewership.Action: YouTube ads should also include a clear CTA to let viewers know what to do after interacting with your ad.
Tubi
With 25 million viewers, this free VOD platform has 100 percent year-over-growth in hours watched. If you're not advertising on Tubi, you might also be missing out on reaching millennials and ethnic minorities.
Tubi offers brands two options for video advertising: Standard Video and Interactive Video.
With Standard Video, brands can occupy pre-roll and mid-roll ad units that play before and during content.
With Interactive Video, brands can share product offers and details, store locations, and more.
Tubi ads are full screen, giving the brand maximum opportunity to engage the viewer. The VOD platform also balances ad time with view time, with ads only occupying four to six minutes per hour of content.
Pluto TV
Free to use, Pluto TV averages over 20 million users per month, making it the most popular free VOD platform.
Pluto offers brands and businesses targeted organic opportunities for advertisements.
Given their dedication to delivering the right ad to the right viewer, advertising on Pluto TV works for local and national brands, connecting your message with the right listener.
What About OTT?
While the terms OTT, over-the-top, and VOD can often be heard as synonymous, there are actually subtle differences between the two models of video delivery. While both refer to allowing viewers to stream video content via the internet, VOD has a larger scope than OTT because it covers any media content that can be played whenever, wherever.
VOD is commonly used exclusively as an online-content bank, but the term also encapsulates downloads and recorded DVRs.
OTT is streaming service-specific, including content that is only streamed over the internet.
Simply put: OTT refers to the distribution of online content, while VOD is defined as the consumption of content that can be played at will.
With OTT advertising revenue anticipated to increase from 45 percent to 60 percent over the next decade, you may want to consider aligning your video strategy with OTT platforms.
Looking for OTT platforms to advertise on? Check out these four:
HuluVimeoTikTokSling TV
Conclusion
From content you share on social to how-to posts, video should be a driving force in your marketing campaigns.
If you want assistance to advertise on VOD or need help with your digital strategy in general, reach out to our agency and we can chat about how we can help.
What's the best ad you've seen on a VOD platform?
If you would like to read more: neilpatel.com